LOST BIRD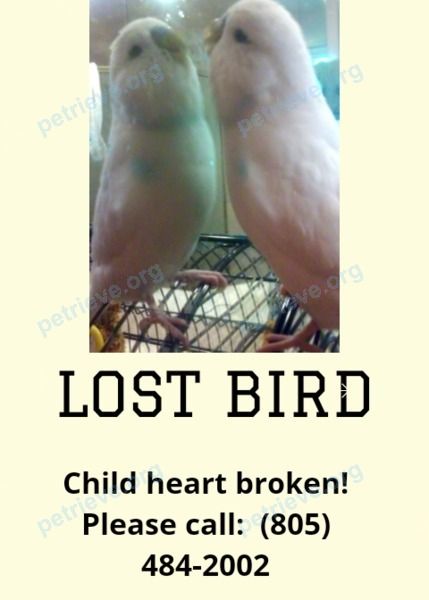 near 1735 Calle Rocas, Camarillo, CA 93010, USA on Jul 18, 2018
Author's comments
Our Angel is still missing. He startled from my sons shoulder when our dog pushed open the back door in mid July. He is a hand raised and super sweet, tame English Budgie. This parakeet, is larger than other budgies and Angel is particularly calm and has a very laid back demeaner. Angel is mostley white with a barely noticable half ring of light blue on the front of his neck below his beak and a small patch of the same light blue color on his upper left breast, right around where his wing starts. We are hoping someone has found him and just hasn't come across any of our posts yet. He is less then a year old and my son is devistated. Please, if anyone has seen or has information about Angel, call or text me anytime at 805.509.3263. Or leave a message with a return contact number at 805.484.2002. Ask for Michele. Thank you all for your help.

---
Users' comments
Got some info about the pet? Send a message to its publisher!
You can print flyers and put them on every corner. This really works!
SHARE this page on your favorite socials. This is crucially important!